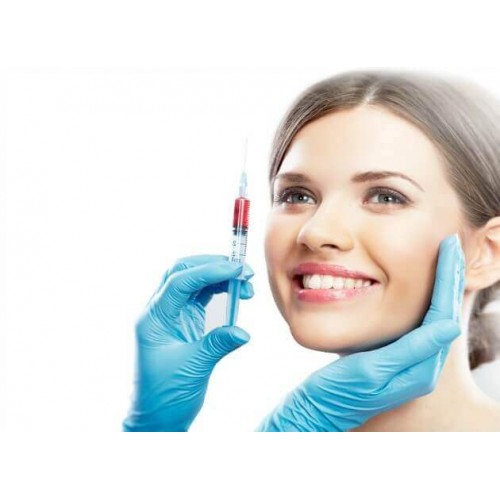 iPRF – injection fibrin enriched with thrombocytes method

I-PRF MATRIKS is a new skin regeneration system. Different from the PRP (plasma enriched with thrombocytes) used nowadays, the cells contained in the I-PRF composition: thrombocytes, leucocytes, lymphocytes, monocytes and neutrophils, are concentrated on the fibrin matrix. This process ensures long-term tissue renovation without any side effects. The I-PRF treatment is intended for the skin biostimulation – regeneration, in order to improve, promote healing of bruises, skin regeneration and for ageing prevention.

How does this treatment takes place technically?

a. The patient is interviewed – the disease record is collected, previously performed tests are assessed;
b. Blood is taken from the patient's vein, approximately 15 -30 ml;
c. The collected blood is processed in a centrifuge, the enriched plasma is separated;
d. The enriched plasma is injected in problem areas. Injections cause very little pain.

2-3 sessions with an interval of a month are required depending on the severity of the skin damage.

In the modern society the innovative technologies characterised by high efficiency in eliminating problems at the same time minimising or excluding any side effects are becoming increasingly popular.

Dr. Joseph Choukroun (France, Nice) and his team, in cooperation with two laboratories - FORM (Frankfurt, Germany) and Research Lab Clarion (USA) developed the I-PRF matrix (growth factor enriched fibrin for injections). This discovery was presented in 2014 in the international "blood growing symposium" in Paris.

I-PRF is a new regenerating system where the cells contained by it, in particular, thrombocytes, leucocytes, lymphocytes, monocytes, neutrophils and stem cells (from the peripheral blood circulation system) are concentrated on an autologous fibrin matrix – this is a progressive, effective and safe method with the skin regeneration effect.

Different from the methods know to us, no anticoagulants are used for this method:

PRP - Platelet Rich Plasma (thrombocytes enriched plasma) – Marx 1998 (anticoagulants are used)
PRGF - Plasma Rich in Growth Factors (growth factors enriched plasma) – Antiua 1999 (anticoagulants are used)
PRF – Platelet Rich Fibrin (thrombocytes enriched fibrin) – Choukroun 2001 (anticoagulants are not used).

In scientific research (Choukroun, 2001 Kevy, 2001 Marx 2004,2005) it has been proven that TBC can discharge growth factors ONLY following biological coagulation. Only then TBC is activated and the fibrin gel forms. The gelling mode impacts the fibrin structure and the fibrin structure defines the biological properties of fibrin. Healing and regeneration processes depend on the quality of fibrin – for comprehensive regeneration process physiological fibrin gel is required (MOSESSON M. fibrinogen and fibrin structure and functions - J Thromb Haemost 2005), (LAURENS N. Fibrin structure and wound healing J Thromb Haemost 2006).


At the end of the centrifuge treatment cycle we obtain:

I-PRF = liquid fibrin + growth factors (from thrombocytes and leucocytes).

Growth factors are proteins which encourage the cell differentiation, growth and proliferation. They communicate with cells by using receptors on the cytoplasm.
The LEU and TBC contained in the fibrin matrix encourage the discharge of growth factors resulting in stimulation of the cell growth and growth of new blood vessels, healing of a wound (defect).
They discharge more than 150 various growth factors (BMP - bone morphogenic protein, FGF - fibroblast growth factor, PDGF - platelet derived growth factor, IGF, VEGF – vascular endothelial growth factors, etc.), of which each has its own specific impact upon regeneration processes. Leucocytes are in charge of vascularisation (VEGF) and osteogenesis (BMP).

Angiogenesis plays the decisive role in regeneration processes!


Discharge of growth factors:

PRP: immediate maximum discharge within 1 hour
PRGF: no data
PRF: slow, gradual discharge – up to 28 days

The I-PRF method is a true scientific and clinic innovation and, although the I-PRF has been in use for a short period, the results are very promising in both the oral surgery and regenerative medicine. For a high quality regeneration process stable growth factors are required, they should be discharging slowly, over a long term (drop by drop), thus stimulating the synthesis of collagen, elastin, fibroblasts, etc. and vascularisation.

The I-PRF method was developed for the purpose of improving the treatment of stomatology, traumatology-orthopaedic and dermatologic diseases and it is also intended for solving aesthetic issues. The I-PRF ensures the efficiency of treatments – faster and more successful regeneration processes, long-term tissue regeneration free of any side-effects.

In the aesthetic medicine the I-PRF treatment is intended for the skin biostimulation, regeneration for encouraging (improving) healing of wounds, bruises, the skin regeneration and ageing prevention.
In dentistry the gum biotype is made thicker, closing of recessions and regeneration of bone and soft tissues in the areas affected by periodontitis and in the areas where there have been no teeth for a long time is encouraged.
By applying the I-PRF in traumatology, regeneration of cartilage and connective tissues is promoted.

Application in the dermatology and in the aesthetic medicine:


Facial and body skin changes caused by the age (loss of tone, loss of elasticity, wrinkles, etc.)
Hypertrophic wounds and lines;
Skin damage after aesthetic treatments (laser therapy, chemical peeling);

I-PRF advantages:

The treatment is fully safe and without manifestation of any eventual side effects because the blood products are obtained from the person's own blood, no anticoagulants or other chemical substances are added.
This is a very safe treatment, any risk of allergy or infection is excluded.
Following the treatment (1-3 x) the obtained result is maintained according to the natural ageing process.

Showing 1 to 1 of 1 (1 Pages)